Digitising Retirement Planning for Financial Planners
When thinking about adopting new ways of doing things, or a different way of conducting business, we ask the question, 'what's in it for me (or my business)?' Enterprises consider the potential costs and benefits of implementing new tools or processes to improve their business and decide to change strategy if the benefits outweigh the costs. New technology brings a degree of disruption to existing business models. So, there's often scepticism, with many unwilling to embrace technology, seeing it as a threat rather than an opportunity.
This article considers the way fintech is shaping financial services and considers its impact on the retirement planning profession.
Automated advice service
The world was introduced to the concept of the robo-adviser in 2008. The financial crisis had eroded trust in the industry and an individual came up with an idea to compete with the titans of finance, by introducing an innovative solution to compete with existing financial products. His idea? To automate a service that tells people where to invest their money and does it for them. This was how the concept of robo-advice was introduced in finance.
Robo-advice broadly considers the client's risk appetite, their asset allocation and tolerance limits. The shift in consumer attitudes towards companies who offered new technologies to provide this service, versus traditional investment firms who had the experience to give advice, had begun. Having tech-based platforms using algorithms to predict consumer trends and behaviour was a watershed moment.
Complacency sets in when an organisation becomes too big and unwieldy, with multiple processes that make it almost impossible to function effectively. And, against the backdrop of an erosion of trust as a result of the crisis, it was only a matter of time before an alternative business model would compete with the established way of doing things. The first robo-advice firms launched in 2008; they realised they had to identify the problem they wanted to solve, their target market and help clients achieve a specific goal.
Initially (and not unexpectedly) many established firms considered this phenomenon to be a fad or something that would eventually fizzle out. Fast forward seven years, and major financial firms started launching their own robo-advice platforms and solutions. While the US has broadly overcome this scepticism of robo-advice, doubts are still very much prevalent in the UK.
Threat or opportunity
I mentioned the scepticism towards new technology at the start of this article. Many businesses are unwilling to embrace tools that can support their existing processes. A few years ago, a major consultancy authored a report on fintech firms. A quote from this report stands out and should be the mantra for businesses in today's tech-inspired world: 'To succeed in business today, you don't need a digital strategy; you need a business strategy for the digital age'. Disruption is a term many businesses don't like. Yet fintech firms are disruptive. The way we think about simple things – how we spend money or how we save our money – is driven by technology. Financial technology (fintech) describes new technology that improves and automates the delivery and use of financial services . For it to work, it relies on the creation of financial apps, data analytics, web-based platforms, artificial intelligence (AI) and automated tools. This is not an exhaustive list; but, it gives an idea of some of the requirements necessary to make an existing process efficient, while transforming the lives of the consumers and users of financial services.
In retirement planning, it goes without saying that the art of planning will almost certainly never be replaced. Human interaction will always play a crucial role in the planning process. In fact, in some cases people will still require an adviser even after using a robo-advice service. While it may disrupt, fintech also supports the retirement planning process. One of the major benefits of using technology as part of your process is the extra time you spend with your client. This helps demonstrate the value in the advice you provide to them. Listening to your client's concerns or understanding and talking through their needs will never be replaced by automation or an algorithm. There are broad areas in which technology plays a crucial role and reduces costs and errors – data aggregation, client onboarding, asset allocation and real-time valuation changes and data analysis.
As a firm, you become more efficient as many administrative tasks or back-office processes, can be provided by fintech software. Fintech tools will become more popular and will be widely adopted by enterprises and consumers alike in the coming years.
As mentioned previously, distinguishing yourself as an adviser within an enterprise in the areas of retirement planning, wealth advice, or portfolio management becomes imperative. You can demonstrate how you add value through emotional intelligence, by considering the differing needs of your clients. There will never be a one-size-fits-all approach to providing retirement planning advice. Each client's needs will be different; better client outcomes will always be dependent on the interpersonal part of the planning process that's based on some outcome – data analysis for example.
Emotion is also a two-way street. Within enterprises, advisers sometimes follow their instinct and use this as a basis for recommending advice, which is not necessarily correct. A more robust approach to creating better client outcomes is to have investment strategies built on robust analytics. Then, to have the client conversation based on these analytics and to make personal recommendations. A bond of trust evolves and is built between the enterprise and their clients because the recommendation is based on the personal needs of the client and how to meet those needs.
Big data
Alternative data, also referred to as big data accounts for a broad range of information from a variety of sources. For example, economic data from the government, financial data from stock markets, credit card purchasing habits of individuals or their social media posts. It also includes the Internet of Things (IoT) – a set of interrelated digital devices with an ability to transfer data among themselves, over a network, without the need for human interaction. Analysing these sources of data reveals patterns to enterprises and gives insight into consumer trends or behaviour.
This is important in retirement planning, where advice is provided based on changing client needs or market movements. The Application Programming Interface (API) brings together the IoT to interact between an IoT device and other elements in a network or with the internet. APIs enable connected devices to see data and transmit such data to your application by acting as an interface. So, you have new software that can connect to existing or old or legacy systems.
In 2018 some reforms were introduced to deal with how banks manage your financial information. UK-regulated banks could share your financial data with authorised providers or other banks, with your permission. The type of information that could be shared include your spending patterns, companies you use, or details of your frequent payments. This is known as Open Banking rules. These rules, in conjunction with software APIs and big data sets, introduce a wide range of opportunities to transform the provision of financial services.
There are fintech firms building APIs that will transform the way we consume financial services. Plaid is a company that provides a range of APIs, making it easy to use open banking and create a range of digital financial products and services. Their service offering includes real-time and historical account balances, bank account holder information, payment initiation via your app, sort codes, account numbers and historical categorised data.
A typical problem within the wealth management or retirement planning space is the challenge of accessing held-away account information for a client, which creates an impediment to increasing the amount of assets under management (AUM). If wealth platforms or fintech retirement planning tools could access this information, they could grow their AUM and improve advice outcomes by better understanding a client's transactions, held-away investment accounts and account balances.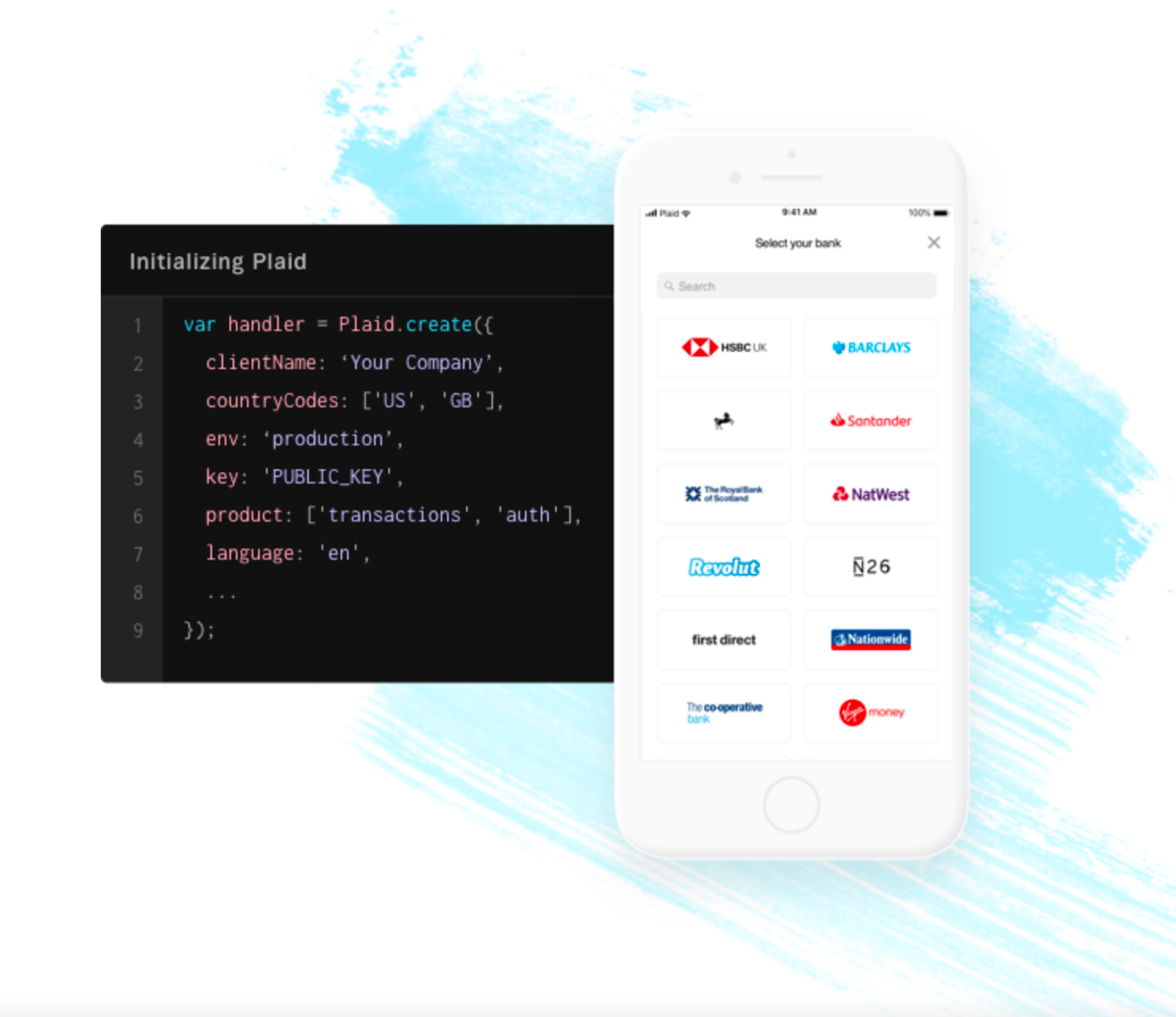 With innovation that uses open banking technology, next-generation, retirement planning tools like Timelineapp will be able to have a holistic and real-time view of clients' held-away assets on the software. These include investments, credit card balances, bank accounts and other assets and liabilities. The resulting innovation in the financial planning process and transformation of client outcomes will be limitless. Clients will be able to track their real spending against their portfolio withdrawals, receive spending alerts based on their withdrawal policy statements, detect lifestyle changes based on their expenditure and cash inflows and reduce the potential for fraudulent account activities.
The future
While fintech will increase efficiency for financial advisers by automating certain parts of their business, there are genuine concerns from clients around the protection of their data, cybersecurity breaches and identity theft where data is stored in cloud servers. Enterprises have a responsibility to strengthen their cyber defences and protect their client data. Full and transparent disclosure should be made in reports about where such data is stored, how it's acquired and assessed and how the firm meets other relevant data regulatory requirements.
Enterprises also need to rethink their strategy when it comes to defining their client base. A firm may have a lot of clients that are approaching retirement and think such clients are not tech-savvy. This could lead them to question why they would want to embrace technology fully. The recent pandemic has shown us that the young aren't the only tech-savvy consumers. We're in a situation where everyone now needs a certain level of technology awareness. Enterprises will also lose potential business and assets to manage if they ignore the young. Most people conduct their affairs on a mobile phone. That goes without saying. This has led to a massive expansion of service and product options at consumers' fingertips. Knowing this, how do enterprises empower their clients to manage their financial lifestyles across many different offerings?
Tech firms that have a lot of API integrations with banks, wealth managers and investment platforms are the ones who will lead this transformation. Banks, wealth managers and other large enterprises who embrace this change will also reap the business benefits. Enterprises know that the recurrent expenditure on their legacy systems will be a drag on profitability eventually. They need to seriously consider how they can overhaul such systems by having API integrations with fintech firms and start-ups. Across financial services, the interconnected sub-sectors that will talk to each other via API integrations and the IoTs, include payments, financial planning and management (including personal finance), investment management, banking operations, personal insurance and wealth management.
The pace of technological innovation is very quick. Traditional enterprises need to invest time and money to enhance their growth prospects. They may have the financial scale, but may not necessarily solve these existing problems on their own. Partnering with fintechs and start-ups is the only way to remain competitive and in business.
References
__https://www.pwc.com/gx/en/advisory-services/FinTech/pwc-fintech-global-report.pdf
__https://www.investopedia.com/terms/f/fintech.asp
__https://www.moneysavingexpert.com/banking/open-banking/