Five ways to improve your client's retirement journey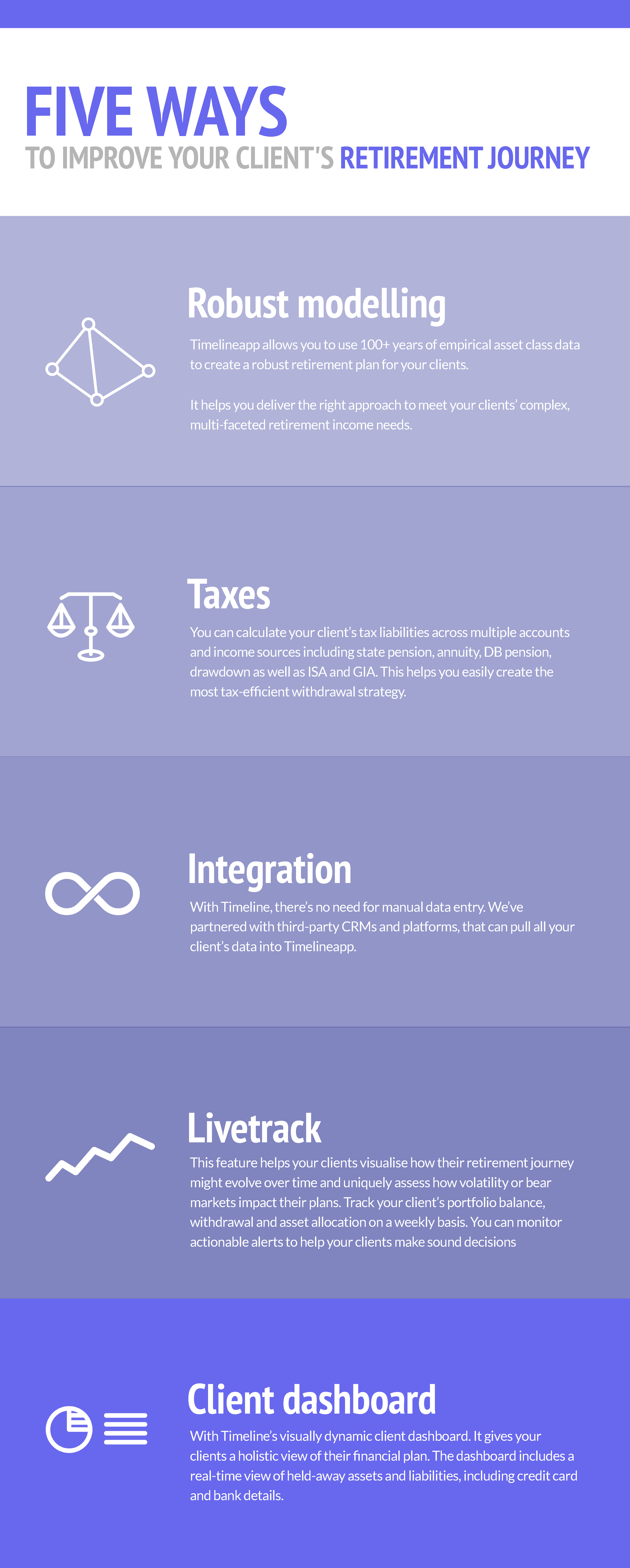 Everyone has a different outlook on life, but for many people, when it comes to saving money there's always 'tomorrow'. This sometimes makes it difficult to commit to anything. That's why financial planners were put on this planet – to help clients plan for their retirement and then guide them through it.
Clients will want to know what they can do to prepare and how much they need to save. They need a personalised plan to help them stay on track. As their adviser, you can take your client's retirement portfolio one step further by developing a robust withdrawal strategy that will evolve over time.
In this blog, we explain the unique benefits that Timelineapp brings to retirement planning. Here are the top five ways this next-gen retirement income platform can improve your client's retirement journey:
1. Robust modelling
Timelineapp allows you to use 100+ years of empirical asset class data to create a robust retirement plan for your clients.
The platform accurately models key decumulation risks – sequence risks, longevity and inflation risks. This helps you model dynamic, rules-based withdrawal strategies to make the retirement pot last longer.
It helps you deliver the right approach to meet your clients' complex, multi-faceted retirement income needs.
2. Livetrack
Wouldn't it be cool if you could track your client's portfolio in real-time? You can with Timeline's Livetrack feature.
As technology becomes an integral part of retirement planning, the ability to track your client's plan in real-time is game-changing.
This feature helps your clients visualise how their retirement journey might evolve over time and uniquely assess how volatility or bear markets impact their plans.
Livetrack can track your client's portfolio balance, withdrawal and asset allocation on a weekly basis. You can monitor actionable alerts to help your clients make sound decisions.
It also meets your compliance needs; it provides an audit-trial of income sustainability for compliance and regulatory purposes.
You can watch our latest video on Livetrack here
3. Integration
Imagine being able to move data seamlessly from one platform to another.
With Timeline, there's no need for manual data entry. We've partnered with third-party CRMs and platforms, that can pull all your client's data into Timelineapp.
Once the client accounts have been linked, that's 90% of the retirement plan complete. You can create a robust withdrawal strategy accurately and efficiently.
4. Taxes
You can calculate your client's tax liabilities across multiple accounts and income sources including state pension, annuity, DB pension, drawdown as well as ISA and GIA. This helps you easily create the most tax-efficient withdrawal strategy.
5. Client Dashboard
Want to keep your clients informed about their retirement portfolio?
You can with Timeline's visually dynamic client dashboard. It gives your clients a holistic view of their financial plan. The dashboard includes a real-time view of held-away assets and liabilities, including credit card and bank details.
Your client can track their real spending against portfolio withdrawals, recognise their lifetime changes based on income and expenditure, receive spending alerts based on their Withdrawal Policy Statement and stay on top of their accounts to spot potential fraudulent tractions.
For more information, or sign up for a 30-day free trial click here