Insights from the latest Retirement income data since the introduction of pension freedoms.
When the reforms introduced by the government in March 2015 kicked in, a lot was said about how retirees would spend their hard-earned retirement income on life's little pleasures including, luxury holidays, yachts, fast cars, and everything and anything money could buy.
There were and still are genuine concerns about retirees falling prey to bad financial advice and potential scams in their bid to quickly access their pots and start enjoying what they have saved all their lives for. It was even argued that it was patronising to think people could not be trusted with their own pension savings.
The FCA has just released its Retirement Income Market Data(₁) and the data shows a remarkable consistency in consumers' attitudes to their retirement income…
How has behaviour changed?
Most people have fully withdrawn their pension pots (accessing plans for the first time via a lump sum, drawdown or UFPLS). Indeed more than 50% have fully withdrawn pensions, across all pot sizes (less than £10k to above £250k). Between October 2015 and March 2020, 54% of people fully accessed their pots while between March 2019 and March 2020, 56% of people did.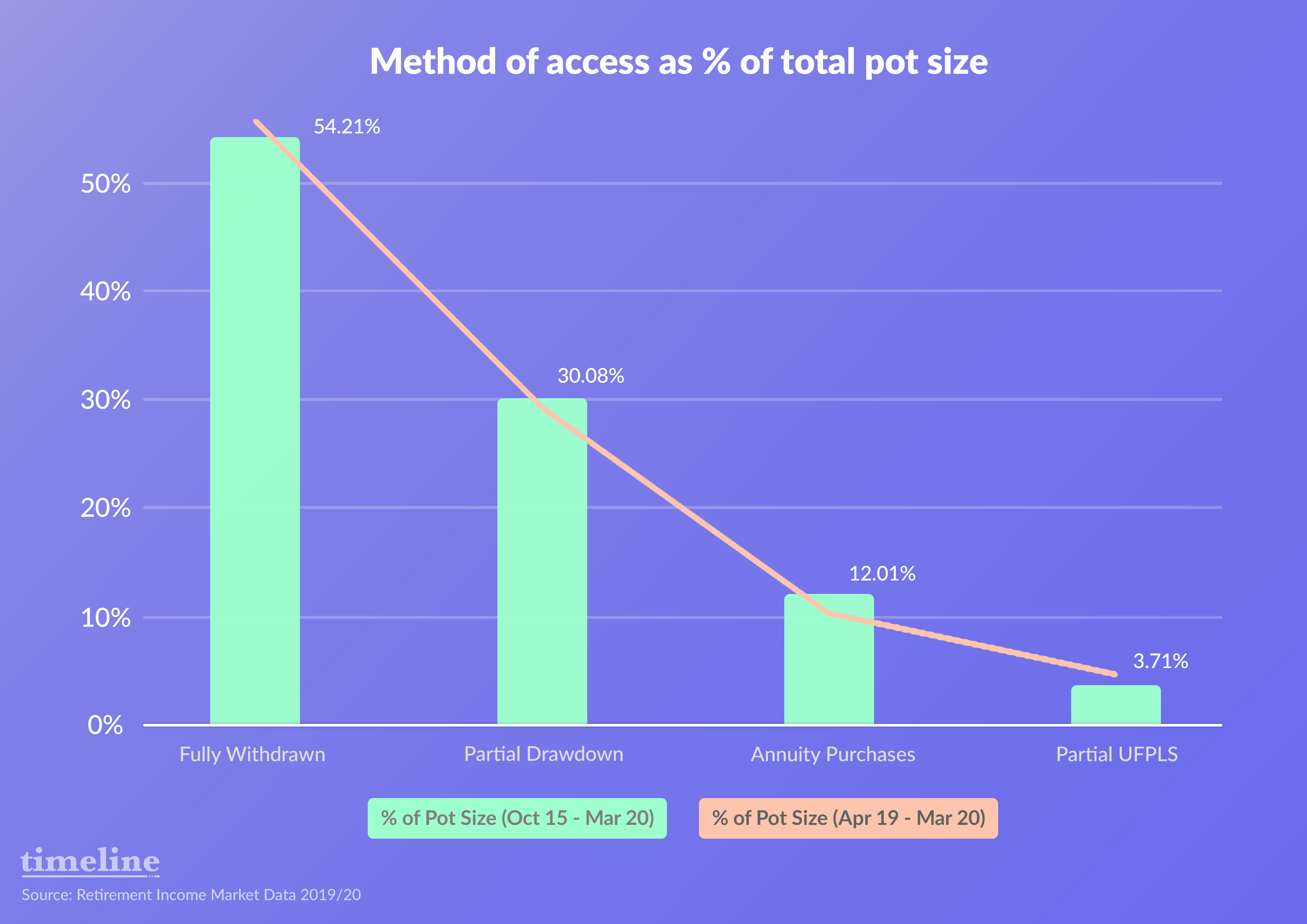 However, delving further into the numbers (each pot size across all methods of access), there's a noticeable pattern which reveals as the pot size increases, the percentage of those being fully withdrawn decreases.
For example, when you consider the pot size of less than £10k across all methods of access (full withdrawal, annuity purchases, partial drawdown and partial UFPLS), between October 2015 and March 2020, 87% of people were fully withdrawn.
As the pot size increases, across all methods of access, this number of people fully withdrawn falls. Fully withdrawn across all methods of access for a pot size of £30 - £49k accounts for 31% and this drops to 6% for pot sizes of £100-£250k between October 2015 and March 2020.
Partial drawdown is the second most popular method of access, with pot sizes of between £50k and £99k accounting for the greatest percentage across types of access between October 2015 and March 2020.
Anyone for an annuity?
An 'annuity for life' doesn't appear to be a popular choice and the data shows a downward trend in annuity purchases. It's understandable why some people may not consider this an attractive option compared to the alternatives. The low interest rate regime that we've had since 2009, which doesn't appear to have any end in sight, may also contribute to the unattractiveness of annuities. Indeed, The Bank of England is currently considering the introduction of negative interest rates. Between 2018-19 to 2019-20, the number of plans used to purchase an annuity was down 6% (from 73,977 pots to 69,519). Following the introduction of the Pension Freedoms, annuity purchases dropped initially by 1.6% between 2015-16 and 2016-17. This decline accelerated to 7% between 2016-17 and 2017-18.
What about fast cars and yachts?
There isn't any strong evidence yet of frivolity on the part of those who have accessed their cash. When you think of potential reasons why people may need such cash, it may not be too hard to proffer potential reasons. Have mortgages been paid off? A mountain of debt to reduce? Long term care needs?
Are they seeking financial advice?
With potential tax implications to be considered when deciding how to access pension income, it's fascinating to see how many sought out professional financial advice.
To provide some context, between April 2018 and March 2020, the total number of fully withdrawn pot sizes amounted to over 732,652. Of this total, just 23% (169,104) were accessed using regulated advice. A whopping 63% of fully withdrawn pots over this period didn't use any regulated advice or guidance. The proportion of fully withdrawn pots accessed over this period that used the Pension Wise service was 14%.
Over the latest year of the data (April 2019 – March 2020), the figure is the same for the proportion of individuals that used regulated advice when accessing fully withdrawn pots – 23%.
For those fully withdrawing less than £10,000, 20% sought regulated advice
Of the individuals fully withdrawing pots of £50,000 - £99,000, 27% sought regulated advice
And those fully withdrawing pot sizes of £100,000 - £250,000, 30% sought regulated advice
That is surely not a good sign if such a small proportion of people are seeking financial advice before they draw their pension income.
The minimum pension age is to rise…again
While it's not yet been legislated for, the government recently announced the minimum age for accessing pension pots is set to increase from the current age of 55 to 57. How these proposed changes will work and their impact on the current pensions regulatory framework is anybody's guess. These changes will also coincide with the planned increase in the State Pension age. The proposed age rise could be phased to coincide with individuals' dates of birth, or it may well be done en-masse.
Based on the current situation, a lot of thought and careful planning is required to secure people's income for retirement. It was almost unthinkable when the freedoms were introduced five years ago, against the backdrop of what we were all used to. Not yet fully understanding how the new normal will turn out, who knows what could happen next?
The one consistent call to action is to encourage consumers to seek financial advice - and for companies like Timeline to keep developing the tools advisers need to give clarity and confidence to consumers through a quick, effective and compliant process.
References:
The data covers the period till the end of March 2020 and is unlikely to be significantly affected by the impact of COVID-19.