Prepping for annual review is easy with Timeline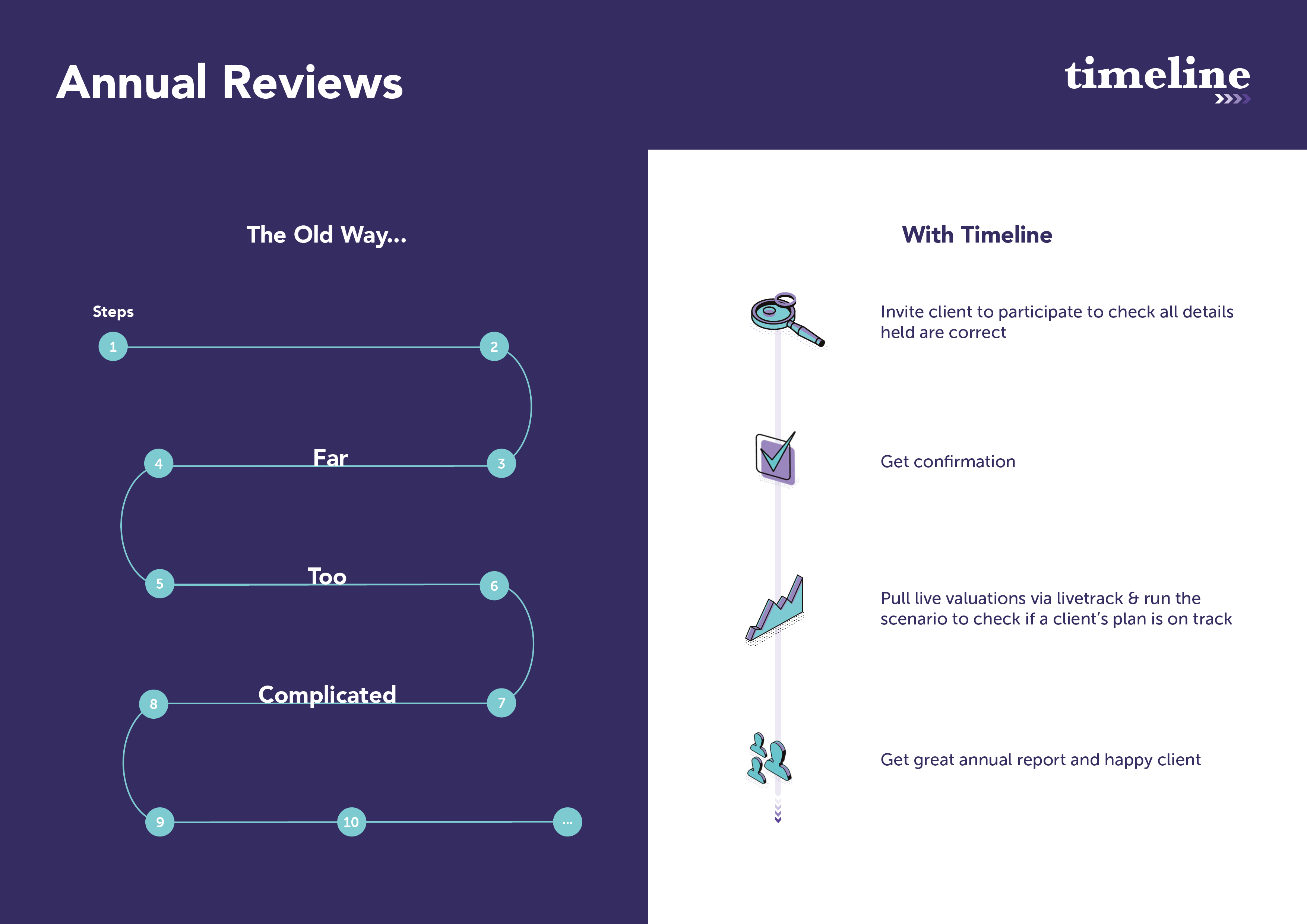 Gathering data and pulling reports together can be time consuming, maximise productivity and improve the client experience by using Timeline, we've made it simple with the following steps;
1. Input a client vis seamless integration, removing the risk of rekeying errors
Via seamless Integrations, technology that talks to one another not only with back office systems but market leading platforms as well, all with just a few clicks. Reducing the risk of manual entry error.
Replacing those time-consuming spreadsheets, valuable time spent gathering and validating valuations, not to mention the report building itself. Instead you have a probability of success backed by empirical data in a matter of seconds.
2. Pull current valuations with 3 clicks of a button
Meaning Advisers can access true figures whenever, wherever. Allowing proactive/reactive responses to clients ever changing situations.
3. Run differing scenarios in minutes displaying your client's goals in clean visuals
In just a few seconds Timeline stress tests the sustainability of your client's portfolio using over 100 years' worth of real capital market data to see how likely your client will outlive their money in retirement, incorporating those all-important client goals.
4. Allocate resource to focusing on clients' needs
Building on improving key business efficiencies, focusing on clients and time spent ensuring they feel assured.
5. Rest assured that clients tax implications, fees and held away assets have been considered providing a holistic view.
Taking things one step further Client dashboard – ask your client to input any held away assets securely through open banking which can then be integrated into their plan to ensure you have all the information, it also helps to ensure your client is engaged and prepared for their annual review.
Another time saver and reduction in rekeying in another system, Timeline has now built Capacity for Loss into our system, alongside testing robustness of your client's portfolio you can measure the client's attitude to risk.
6. Monitor – your auto pilot
Furthermore, with the use of our Livetrack feature, Advisers have instant access to a clean audit trail displaying how a clients' portfolio is doing, meaning that each time a client review is due your prep work is already in hand. Showing your client their plan has been at the forefront throughout the year.
All of the above captured in a clean, compelling PDF report for your client.
The client experience is a continuous journey, from prospecting, onboarding to ongoing engagement. Optimise your client experience strategy to reframe the perception of value really looks like.