Save more yesterday!
We're all familiar with Newton's first law of motion, also known as inertia. The inability to act without being prompted. Or, the inability for an object to remain in the same state of motion unless an external force acts on it. This isn't an article about Physics or quantum theory, but this principle of inertia has been applied in recent years in behavioural science and economics to understand and, hopefully, change human behaviour. 
Nudge theory gained prominence just over 10 years ago in the UK. It's based on a framework of choice that aims to change an individual's behaviour without precluding any options available to them. How do you get people to behave in a certain way without them feeling they don't have any other option or alternative means to deal with the issue? Those who don't agree with nudge theory argue that as individuals, we shouldn't be told what to do. We'll always make decisions that are in our best interest. We should have the right to choose ourselves. And rightly so, thank you very much.
As far back as 1992, the Australian government introduced the Superannuation Guarantee Fundⁱ. As early adopters of auto enrolment, the government made it compulsory for all employers to contribute a stipulated minimum as a percentage of employees' salary into their retirement pots. These payments are made quarterly and employees were provided with a standard choice form. The starting contribution rate when it was introduced was 3%, gradually increasing for employees who earn over a certain threshold, to 12% by 2019²
In the UK, auto-enrolment was introduced in 2012. The idea was to make it compulsory for employers to automatically enrol eligible workers into a company pension scheme. This would ensure money was set aside for the employee's retirement and a culture of savings was ingrained in the individual. This is the default position and the employee is free to opt out if they wanted to. Before auto-enrolment, some workers may or may not have had access to a pension, for a variety of reasons. These included not applying to a company's pension scheme (if it had one) or the employer not offering a pension as part of their remuneration package.
Auto-enrolment in the United States began with a shift from Defined Benefit (DB) to Defined Contribution (DC) plans in the 1970s. Changes in the US labour market at the time, including people being able to move freely between jobs, contributed to this. Changes in the regulatory environment also contributed to this change.
In all these countries, the idea was to provide a steer to workers on how to think about their retirement savings — especially as many DB schemes were being closed to new employees, as people lived longer.
Accumulating properly? Participation versus savings rates
Auto enrolment is meant to solve the problem of under-saving. But, do higher participation rates automatically translate to higher savings rates? Some people view just having a pension as being enough. Young people who've just started working — or are many years from retirement and still accumulating wealth — may not realise the importance of saving more than the minimum. Do they know how much money they need to save across their pensions? If they do, do they think the minimum employer contribution via auto-enrolment is enough to provide the income they'll need in retirement? How about those who are self-employed? Are they putting enough away to meet their income needs when they get to retirement? Many young people won't ever know what a Defined Benefit pension is. Or worry about the investment performance of their assets and guaranteed income returns, because most private employers don't offer this anymore. 
According to the latest release of the Office for National Statistics (ONS) Pension Wealth in Britain, 80% of active pension wealth is held in occupational Defined Benefit pensions, and this proportion has remained largely unchanged overtime. 
Figure 1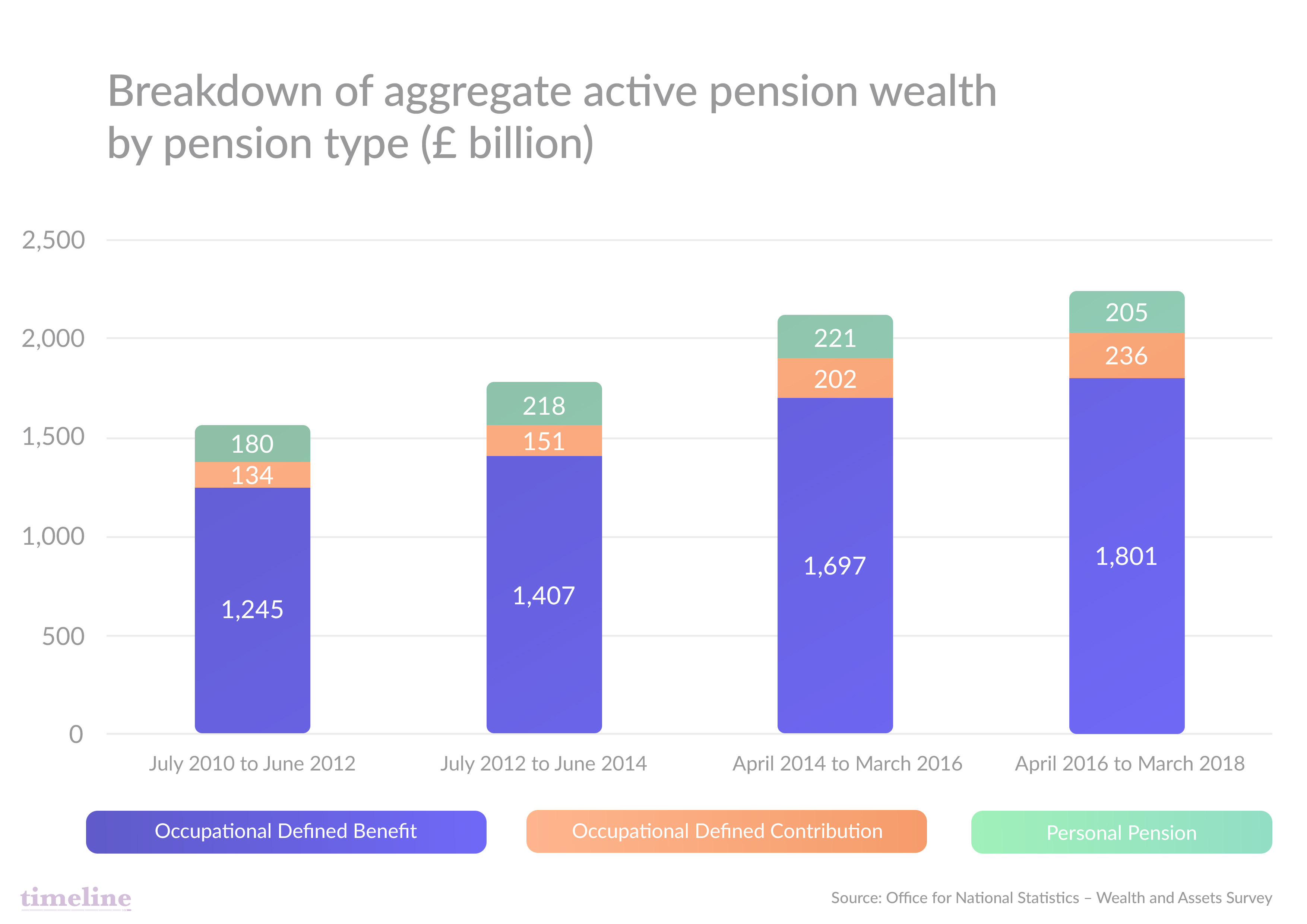 Source: Office for National Statistics – Wealth and Assets Survey 2018³
Defined Benefit pensions have been around for much longer, hence the huge gap in the UK. But, how soon will individuals contributing into Defined Contribution schemes at minimum levels close this gap?
Looking at the data globally, Australia and the United States appear to have bucked the trend of more pension wealth in Defined Benefit schemes. Other countries, including Canada and Japan, still have more pension assets in DB schemes, while DC pensions constitute a minuscule amount of their totals.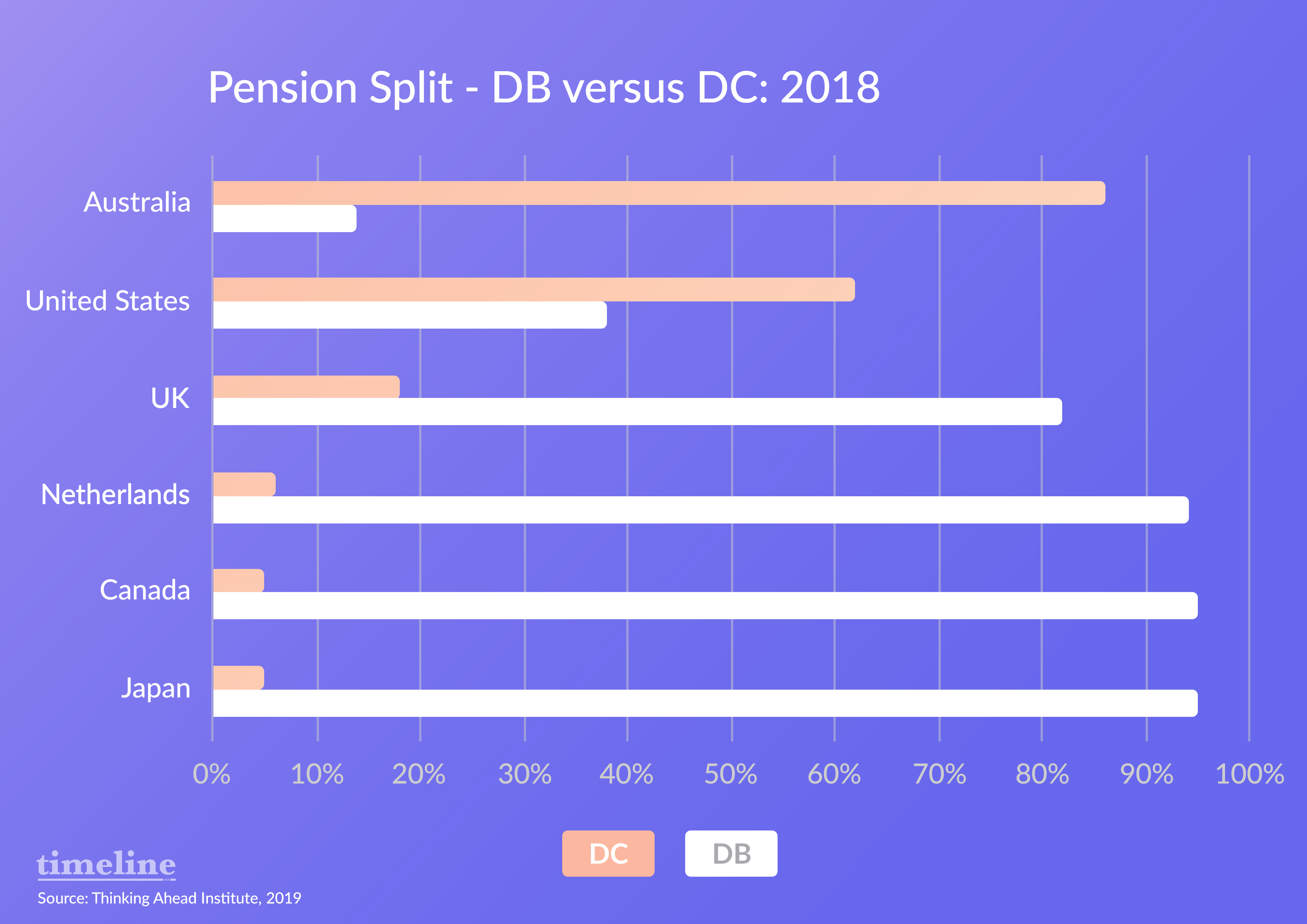 Source: Thinking Ahead Institute, 2019
We've all read surveys that show people just don't know how much they need for retirement. There may also be a false sense of security in relying on the State Pension or other Social Security income to make up for this pension savings deficit. Government initiatives based on set criteria, including eligible age, change regularly. As advisers, what sort of conversations are we having with clients and prospects about this? This is especially important where clients are in the early stages of their working lives and need a clear sense of direction on their retirement journey and income needs in later life.
The new, new normal
The term new normal was used to describe the outlook of the global economy after the Great Financial Crash led to low interest rates and a massive asset buying programme by governments all over the world. Six months ago, the world was jolted by the global pandemic caused by a virus which not only crippled global economic activity but led to job losses on a massive scale. Whilst the debate still rages on about how and when a recovery will take place, the sheer scale of job losses has left policymakers and individuals alike asking themselves some very tough questions. As well as laying off workers, some organisations have proposed a reduction in pension contributions to their employees' pension pots. Workers themselves also paused or reduced their contributions into their workplace schemes. True, we can't say with certainty how many jobs will be lost, but this will become a permanent feature of our lives. Not least because some industries may never return to how they operated before the pandemic and more people may become self-employed.
So, how do planners hope to engage clients and prospects — especially those just starting out in work or who've somehow relied solely on employer funded contributions?
Technology has already transformed — and will keeping transforming — our lives. I believe we should all have embraced this trend now. This shouldn't be a problem for younger clients in accumulation. Financial service firms, pension providers and retirement planners have arrived at a place where technology plays an integral part in their service offerings. We've written previously about the challenge for wealth management firms to access held-away asset information for clients. For instance, the UK government has a Pension Tracing Service which aims to find contact details or search for a lost pension. It'll be quicker to access this information via an integrated app and improve advice outcomes by better understanding a client's transactions and investment accounts.
Never too late
As I mentioned earlier, many individuals accumulating wealth may never have a DB pension that provides them with a guaranteed income. Working with whatever tools or information they have, it's never too late to start rejigging their planned retirement journey. Hard as it may be for some people, increasing the amount they pay into their pension is a sure-fire way of plugging a pension savings gap. For those who've had different employers, tracking lost pensions and savings will also help address under-saving for retirement. People will need to work out what really counts as necessary expenditure when they're thinking about increasing their pension savings. If we'll mostly work from home for the foreseeable future, what we save in transport costs could go towards a pension, for example.
We must think about realistic income levels for retirement and how we can be practical when accumulating wealth. With the help of an adviser, of course.
References
This is a trust-based DC pension.

https://www.autoenrolment.co.uk/news/auto-enrolment-what-can-we-learn-from-new-zealand-and-australia

Occupational defined contribution wealth includes additional voluntary contributions.