The Importance of Client Review and Withdrawal Policy Statement
Decumulation advice is now a very important topic in retirement planning. This became inevitable because of pension reforms that came into being in 2015 that meant more clients would go into drawdown. This also necessitated the need for suitable robust professional advice. There has also been a lot of guidance and regulation that has sought to clarify precisely what suitable advice is and the need for documentation and demonstrating to clients that this is being done correctly, considering the clients' best interests.
Documenting relevant client-specific information that ensures a client's investment needs are captured, or the planner's advice is appropriate is useful.
Before we describe what a Withdrawal Policy Statement (WPS) is and why it is central to retirement planning, let us quickly revisit how the retail investment advice landscape operated, before the introduction of the Retail Distribution Review (RDR) and Pension Freedoms.
One of the aims of the RDR introduced in December 2012, was for advisers to demonstrate that the advice being provided to their clients was suitable. This was against a backdrop of Independent Financial Adviser's (IFAs) previously providing "advice" to clients and being paid a commission on products that their clients ended up buying as part of the advice process. Demonstrating that their clients needed these products in retirement was almost impossible. The incentive to make a profit overrode any consideration of good retirement outcomes and good advice for the client.
Post-RDR, advice standards increased, and professionalism became the watchword. This also led to an improvement in the quality of advice being given.
Within the context of retirement planning, a lot has changed over the last five years. In the 2014 budget, the government introduced what is known as the "Pension Freedoms." This gave more wiggle room to retirees who previously had no other option but to buy an annuity once they reached retirement age. The new reforms discarded this accepted wisdom and conventional approach to retirement and introduced new levels of freedom and choice for those who were planning for retirement.
Timeline as a retirement modelling tool uses empirical data to stress-test the key risks clients face in retirement; longevity, investment, and inflation. When these risks are considered within the overall context of a client's retirement experience, it enables an adviser or financial planner to ensure their recommendations meet the client's overall needs as well as documenting things like the client's financial condition and investment preferences. Besides the suitability of advice, there are also other important questions, such as whether the client's income needs will be sustainable in retirement.
A WPS doesn't just focus on the need for suitable investment advice on an ongoing basis. It considers the overall client retirement experience within the context of key focus areas. These include the initial sustainable withdrawal rate, the client's income objectives, investment strategy, withdrawal strategy, inflation risk, longevity risk, and a set of guiding principles.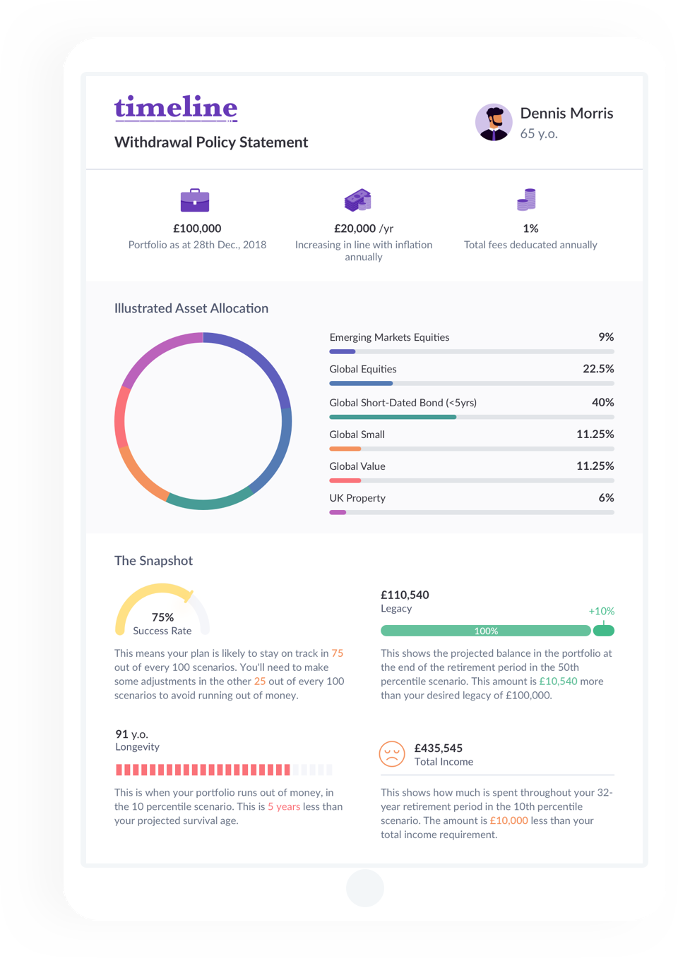 Jonathan Guyton proposed the idea of a WPS. In his article in the Journal of Financial Planning , he spoke about the tendency for financial planners to "…frequently leap from the discovery and clarification of client values and goals…to implementation steps that use various strategic and tactical arrows we have in our well stocked financial planning quiver". He explained the pitfalls of focusing on these steps and not taking into account key rules that would guide appropriate decision making in light of unexpected events.
Considering his analysis, the importance of a WPS cannot be overstated. It is crucial in retirement planning. While we can manage events and try to find suitable workarounds to unexpected developments in our lives or the capital markets, setting clear and specific goals at the onset of planning and how to deal with them once they arise makes planning a lot easier. For example, while we can readily adapt our investment strategy in the accumulation phase, what happens when an event like market volatility occurs in decumulation? How likely are we willing to be "flexible" to adjust to this unexpected event?
The necessity for establishing a pre-agreed framework for dealing with and managing market volatility, for example, makes it easier to have that conversation when the event occurs. The likelihood of a client achieving their retirement aspirations, their asset allocation strategy, the sustainability of their retirement income needs, the need to adjust their spending, and a detailed explanation of the kind of advice given is what makes the WPS useful in planning for sustainable income withdrawals.
If you have a client with a specific income requirement in retirement and a certain amount of assets in their portfolio as an adviser, how do you demonstrate that this income need is sustainable? The likelihood that the client will, at some point, agree to spend less or even spend more than their initial income requirement (baseline planning scenario) implies that the adviser sets a retirement planning target and work towards achieving it.
Going back to a framework proposed by Guyton and using our client's example with the rigid income need, you discuss and build a plan within a pre-agreed framework. You then stress-test that plan using actual historical data that accounts for a wide range of market scenarios. The results you get will demonstrate the likelihood of achieving that plan over a retirement planning period. You would adjust for fees, taxes, and guaranteed income streams. If the results of your plan suggest the client will likely run out of money within the first ten years, you can apply a strategy to mitigate that. Using a strategy that adjusts income for inflation on an annual basis, excluding years following a negative portfolio return, you can build this into the plan and see how it subsequently plays out.
Market volatility will always be a feature of investing, and we cannot wish it away. Using our stress-tested plan that accounts for historical market events, gives you the planner and client a sense of direction. To reiterate, the WPS is more than just a suitability statement; it is an all-encompassing roadmap that ticks every single box of a client's retirement experience that deals with uncertainty and manages the client's expectations.
By demonstrating how a recommended investment strategy or planning advice within the context of a client's constraints meets the client's needs, a WPS ticks all the boxes, including a demonstration of rigorous data application that underpins the stress-testing of the client's portfolio.
If you haven't already done so, sign up for a 30-day free trial here.