Vertically integrated businesses: do they benefit clients?
Context
The Consumer Protection Strategy introduced by the then Financial Services Authority (FSA), had at its core the Retail Distribution Review (RDR). The aim was to make sure clients received advice that met the standards of transparency, clarity and professionalism
This background story is one that we're all aware of. Life insurance companies dominated the advice market and sold their products via commission-based advisers. Consumers were getting the short end of the stick and products popular at the time, weren't necessarily right for them. RDR would change the way financial advice operatedⁱ.
An exodus of sorts followed shortly afterwards with many firms exiting the advice industry due to the cost of implementing the rule changes. There was also the issue of the potential conflicts of interest, so it was inevitable that some firms would have to change their business models to adapt to the new regulatory regime. The aim was to attain better client outcomes. Business models that were built around financial planning were preferred to 'advisers', who sold products to their clients to earn a fee, regardless of whether these products suited the clients' needs.
Consolidation
There's recently been an increase in merger activity across the advice market. One of the reasons given by firms is the need to be closer to end clients to provide quality financial advice. But is this advice generally widespread across the wider population?
According to the Financial Conduct Authority's (FCA's) most recent Financial Advice Market Review report (FAMR)², only the more affluent in society can afford the improved standard of advice post-RDR. It appears that the rules for regulated financial advice have made firms and advisers wary of seeming to give advice rather than guidance to individuals who can't afford professional advice. Even if they need some help or guidance to make their own financial and retirement decisions.
This is important because, in 2017, 10% of people surveyed said they'd heard of at least one online pension or investment service. This number increased to 38% in the FCA's 2018 FAMR survey³. The numbers have edged upwards, but it's understandable that the majority of consumers still don't know about the online investment or pension platforms. Automated online retirement services are only beginning to gain traction in the UK marketplace. They're still a new concept to us. The traditional advice model is more well-known because it's been around for much longer.
The need and demand for advice will always be there. But, will the emerging trend of larger integrated firms play a role in ensuring more of the population have access to such advice?
There have been suggestions that larger firms may only want to increase their assets and profits by distributing their products to end clients. And, that's why they're consolidating their operations by acquiring other firms or launching their own in-house propositions. Which leads us back to the previous point; the strict rules surrounding RDR make it difficult for advisers or product providers to engage with clients in ways that would avoid breaching these rules. So, one of the viable options may be to have an advice practice alongside their existing fund management and/or distribution arms. Client conversations then happen within an advised business framework.
Having control of the entire value chain, from fund management through to product sales and financial advice, should make business sense. Scale economies can leverage for starters; however, will this translate into more affordable advice for the wider population? Also, will existing standalone IFA firms who outsource their client's investment strategy to an asset manager be comfortable if that same firm had an advice business? Will there be worries that clients could be poached or that the IFA firms themselves could be targets of a takeover?
Components and Synergies of a vertically integrated wealth management firm.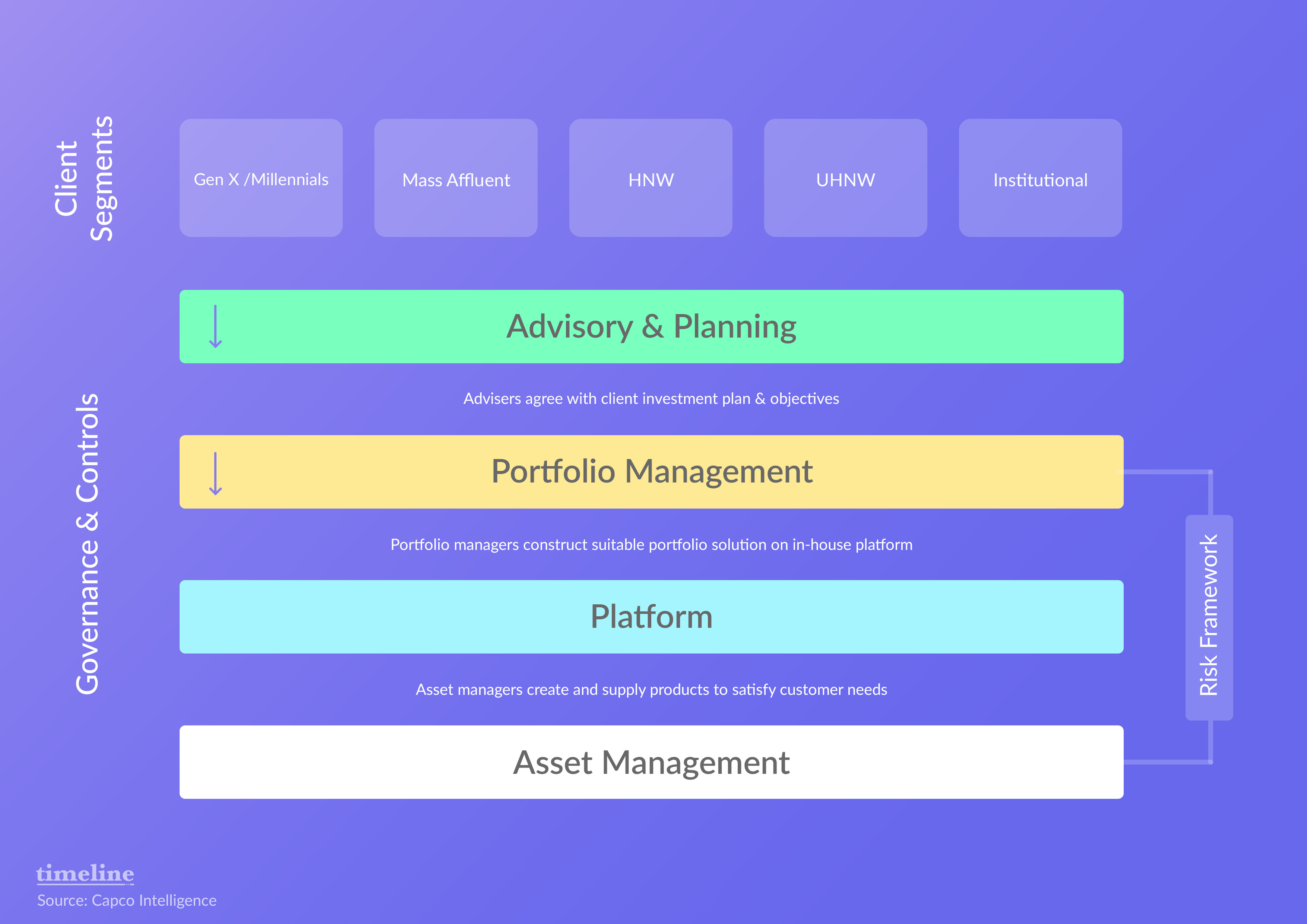 What should be done to better meet the needs of an underserved client base? The focus for some firms may be on High Net Worth (HNW) customers or clients. However, to attract and retain customers who don't qualify as HNW, businesses need to think of creative ways to attract this category of potential clients with a unique selling point or proposition. Using platforms that have invested in client experience will also drive and improve client engagement. This in turn can help firms distinguish their service offering.
Large asset managers entering the advice marketplace hoping to expand their service offerings, need to ensure such services are genuinely affordable to the wider population.
References
ttps://www.fca.org.uk/publication/corporate/famr-final-report.pdf