What's the assumed growth rate in your retirement projections?
Adviser Question: What's the assumed growth rate in Timelineapp? For example, in Voyant we use 4.5%pa gross return, 2% inflation, 1% fees which gives a net annual growth rate of 1.5%
Narrator: Abraham bangs his head against the wall, then miraculously recovers and opens his mouth….
Abraham: The very essence of Timelineapp is to avoid running projections based on a single assumed growth rate like the one above.
Instead, Timelineapp runs hundreds of real-world scenarios using the 100+ years' historical data of the underlying asset classes in the portfolio and inflation.
This means that there's no single growth rate in Timelineapp.
For example, Timelineapp runs 1,000 scenarios for a 30-year retirement plan. Each scenario has 30 different annual returns (in actual fact, we use monthly data, so each scenario actually has 30 * 12 monthly growth and inflation rates).
The benefit of this is that we can test the impact of various real-world scenarios, such as the 72⁄73 bear market when UK equity declined by 67% and took nearly six years to fully recover. Or, the Great Depression when US equity declined c87% and lasted over three years.
Using this extensive data allows Timelineapp to stress-test the impact of these scenarios of every single year of your client's retirement plan, with a reassurance that the plan has a high degree of robustness in a way that is IMPOSSIBLE with traditional cashflow plans.
See interactive chart here
As financial writer Morgan Housel notes… A plan is only useful if it can survive reality. And a future filled with unknowns is everyone's reality. A good plan doesn't pretend this weren't true; it embraces it and emphasizes room for error. The more you need specific elements of a plan to be true, the more fragile your financial life becomes.
Of course, we do provide the average Mean Return (Annualised) and Volatility (i.e Std Dev) for each asset class in your portfolio, which can be found on the Portfolio tab in the software. However, this should NOT be confused with the 'growth rate' in the same way that Voyant uses growth rates.
These are just the average returns over hundreds of scenarios, and as we know, average by its very definition hides individual scenarios, especially the extremes.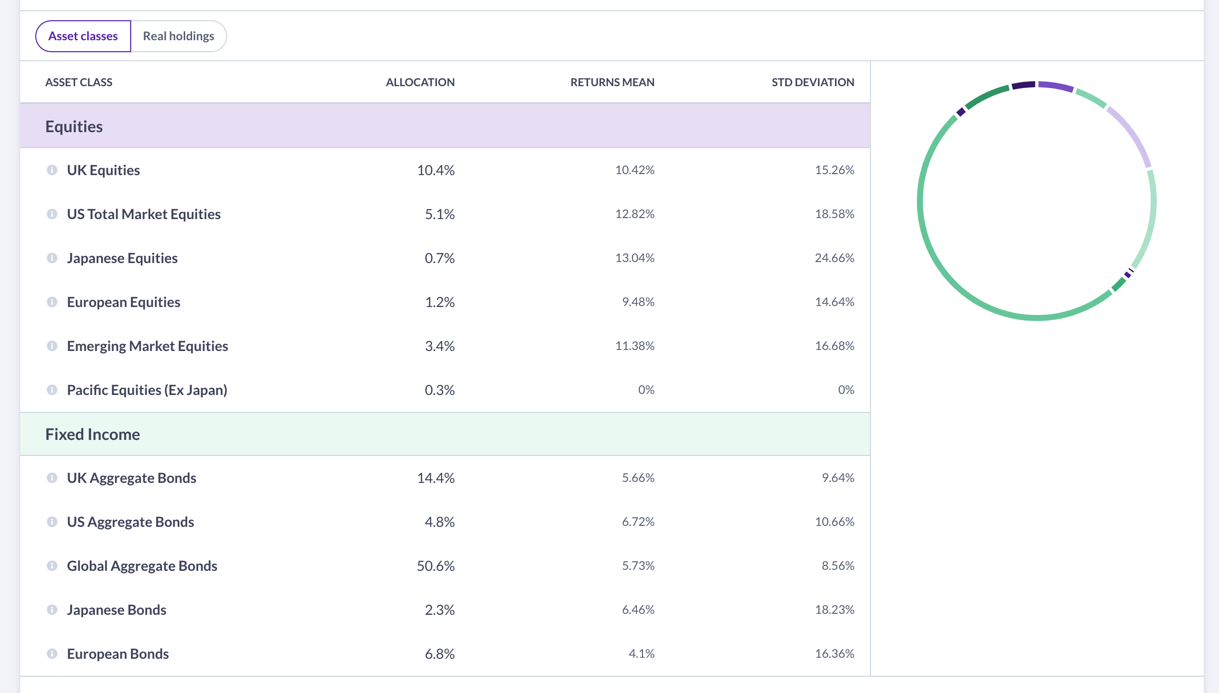 But, but…. what if my client ask me about assumed growth rate
A major weakness of straight-line cashflow projections is that they can encourage 'anchoring bias'. If you tell clients they 'need' to achieve 6% a year to meet their retirement objectives, chances are they'll obsess about that number, even though it's completely meaningless in reality.
Instead, Timelineapp is a great way to help clients think about how robust their plan is, based on the behaviour of the underlying asset classes in their portfolio.
Rather than having to make specific assumptions about expected return, we explore real-world scenarios. These are based on the extensive data on how each asset class behaves and make sure that your plan works, even in scenarios where the average growth rate isn't met. This shifts their focus from obsessing about particular growth rates, to stress-testing real-world scenarios.
One way to explore this in a discussion with clients is to view the Balance tab on Timelineapp, and click on 'Calendar Year' scenarios. This will show some of the scenarios you run in Timelineapp and you can use your cursor to point to individual scenarios (in purple below) to reveal the average returns for the particular scenarios.
For example, as shown above, the purple line reveals some of the individual 30-year scenarios - along with summary returns data for the underlying portfolio e.g Mean Annual, Max Portfolio Drawdown, and Highest Return - over the retirement period. Each of the lines is equivalent to the entire scenario run in traditional cashflow; except this is more representative of the real world and there are hundreds of such scenarios instead of just one.
The point is, Timelineapp tests hundreds of real world scenarios, based on 100+ years' historical behaviour of the asset classes in the client's portfolio. This rigorous approach is a far cry from the approach by straight-line cashflow which assumes that the portfolio grows at 4.5% each year - no volatility, no bear markets and no sequence of return risk. The real world just doesn't work this way.