Category: Case Studies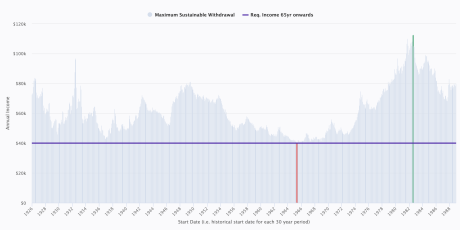 How much can I draw from my retirement savings without running out of money? This is the 64-million-dollar question Bill Bengen attempted to answer in his seminal 1994 paper published in the Journal of Financial Planning.
Keep Reading
The Miggins are back. See here for details but the headline is John and Jo Miggins are 65, recently retired with £300k in their retirement pot and a house with no mortgage.
Keep Reading
John and Jo Miggins have worked hard all their lives. They saved as much as they could and now they're ready to retire. They've paid off their mortgage and their home is worth £260k. Between them, they have £300k in their pension pots. And that's it!
Keep Reading