We're excited to share our FREE Guide to sustainable retirement income for advised clients.
Many factors contribute to a successful retirement; figuring what you're going to do with your time, keeping physically and mentally active, and managing your financial resources in a way that helps you achieve what matters to you. This guide is dedicated to the financial aspect – specifically, how to make sure your retirement portfolio lasts for as long as you need.
CASE STUDIES
Included case studies presented in a simple, clear and concise way that clients can relate with.
DESIGNED FOR ADVISERS
Advisers can download the guide, add their logo to the front page and share with their clients.
COMPLETELY FREE
There's no charge for using this guide. Consider it our labour of love.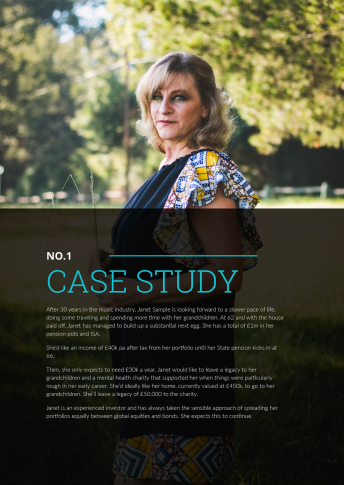 1 / 3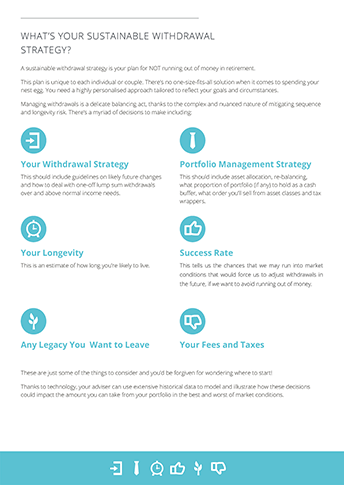 2 / 3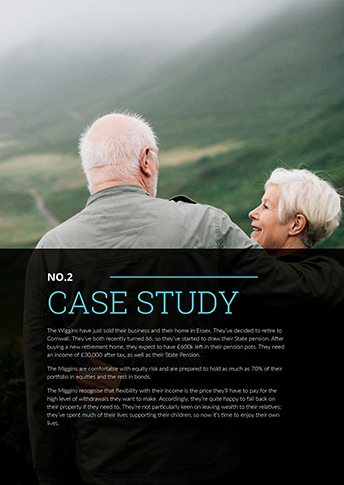 3 / 3
Terms of use
All rights reserved. This material is reproduced under license by Timelineapp Tech Limited.
This guide is designed only for use by financial advisers, authorised and regulated by the FCA. If you are not an FCA-authorised financial adviser, please contact us. Downloading this document without the appropriate FCA authorisation and/or our express written permission, is a breach of our intellectual property – that is a theft.
We grant authorised financial advisers the permission to add their logo to the front and back cover of this guide. No further changes can be made to this material without written permission.
The content is for educational and illustrative purposes only. Nothing in this document constitutes investment advice and must not be relied on as such. The value of investments and the income from them can go down as well as up. You may get back less than you invest. Past performance is not a guide to what might happen in the future. Transaction costs, taxes and inflation reduce investment returns.
It is entirely up to the adviser to seek and obtain permission from their compliance to use this material with clients. We can not get involved in that process in any way.